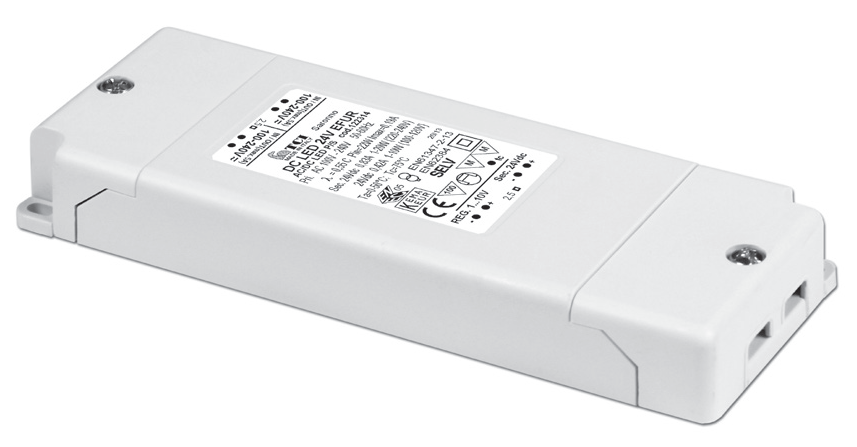 TCI 24V Dimmable Mains LED Driver 122314
TCI 122314 - DC LED 24V EFUR
Direct Current Dimmable Electronic Driver  
Product Features
Light regulation 0/1 - 100 % by means 0/1...10 V local interface (I=1 mA) or 100 Kohm potentiometer.
Suitable for professional luminaries for stage lighting and studios or similar.
Double input terminal blocks to loop other driver
Double output impedance.
IP20 independent driver, for indoor use.
Class II protection against electric shock for direct or indirect contact.
Supplied with terminal cover and cable retainer.
Input and output terminal blocks on opposite sides.
Double terminal block on primary and secondary circuits (wire cross-section up to 2,5 mm2 / AWG13).
Clamping screws on primary and secondary circuits for cables with diameter: min. 3 mm - max. 8 mm.
Driver can be secured with slot for screws.
Protections:
- against overheating and short circuits;
- against mains voltage spikes;
- against overloads.
Thermal protection = C.5.a.
Specific dimming terminal connection with a 0/1...10 Vdc electronic potentiometer (0/1...10 V local dimming, double insulation required for external connection). I = 1mA.
It can be dimmed by the potentiometer only if used individually.
Delivery 5 -7 Days to Ireland & UK 
Questions??.... Get in Touch sales@ecg.ie